PROTECTION AND THE PLANNING CONTEXT
The law

The black redstart is a 'fully protected species'. It is listed on Schedule 1 of the Wildlife and Countryside Act 1981 (as amended). This protects the bird, its eggs and nestlings from killing, injury, and damage or destruction to its nest. Importantly, the Act also protects any intentional disturbance to the bird while it is building its nest, or is in, on or near a nest containing eggs or young, or disturbance of the dependent young of such a bird.

Therefore operations such as demolition, and/or those requiring planning permission, may affect this species adversely, and may therefore be controlled by the Act.

The Countryside and Rights of Way Act 2000 (CROW) strengthened aspects of this legislation, importantly adding that 'reckless' disturbance of birds (including those listed on Schedule 1) during the breeding season is now subject to prosecution under the law. This gives greater responsibility of landowners and site managers to take particular care on sites where black redstarts are known to, or likely to, breed.

English Nature are the agency responsible for the interpretation of the Act, whilst the police are responsible for enforcing it. English Nature should be consulted at the earliest opportunity. There are exemptions to the implementation of the Act, and these will be spelt out by English Nature.

Planning policy

Planning Policy Guidance 9 (Nature Conservation, 1994) states that the key to the conservation of wildlife is the protection of the habitat on which it depends (para 4). More specifically, in relation to protected species, para 47 states that 'The presence of a protected species is a material consideration when a local planning authority is considering a development proposal which, if carried out, would be likely to result in harm to the species or its habitat. Local authorities… should consider attaching appropriate planning conditions or entering into planning obligations under which the developer would take steps to secure the protection of the species.'

UK Biodiversity Action Plan and other conservation frameworks
The back redstart is listed as a Species of Conservation Concern on the UK Biodiversity Action Plan (1995). It is also listed on the Red Data Book of Birds, and in Appendix II of the Bonn Convention on the Conservation of Migratory Species of Wild Animals.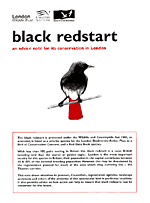 Black Redstart Advice Note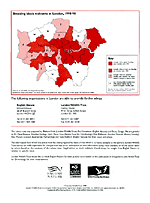 Most action in respect of the UK BAP will be taken through the Local Biodiversity Action Plan (LBAP) process. Specific black redstart Action Plans have been prepared for at least three LBAPs; London, Birmingham & the Black Country, and Lewisham. It is expected that LBAP objectives are integrated into the Community Strategies for which local authorities have a duty to produce under the Local Government Act 2000.